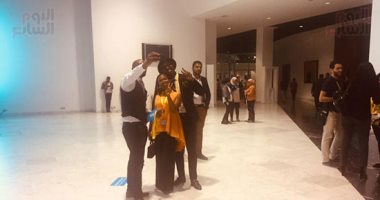 [ad_1]
The youth forum from around the world was looking for photos at the conference room with great interest, which illustrates the opening of the Sharm El-Sheikh World Theater.
Some young people stood before the big painting of the African continent and wrote another painting in the world's youth theater a few hours before the opening of Abdel Fattah al-Sisi's chair.
The official opening of the forum will take place on Saturday.
The World Youth Forum is chaired by President Abdel Fattah Al Sisi, a global annual event from 2018 to 06, in Sharm El-Sheikh, Egypt. The Forum was launched in 2017, after calling on a number of outstanding Egyptian youths to send a message about peace and prosperity and development for the whole world.
This year, the Forum attracts more than 5,000 young people in the world to express their opinions and make recommendations and initiatives in the presence of world leaders, leaders, and influential people.
[ad_2]
Source link