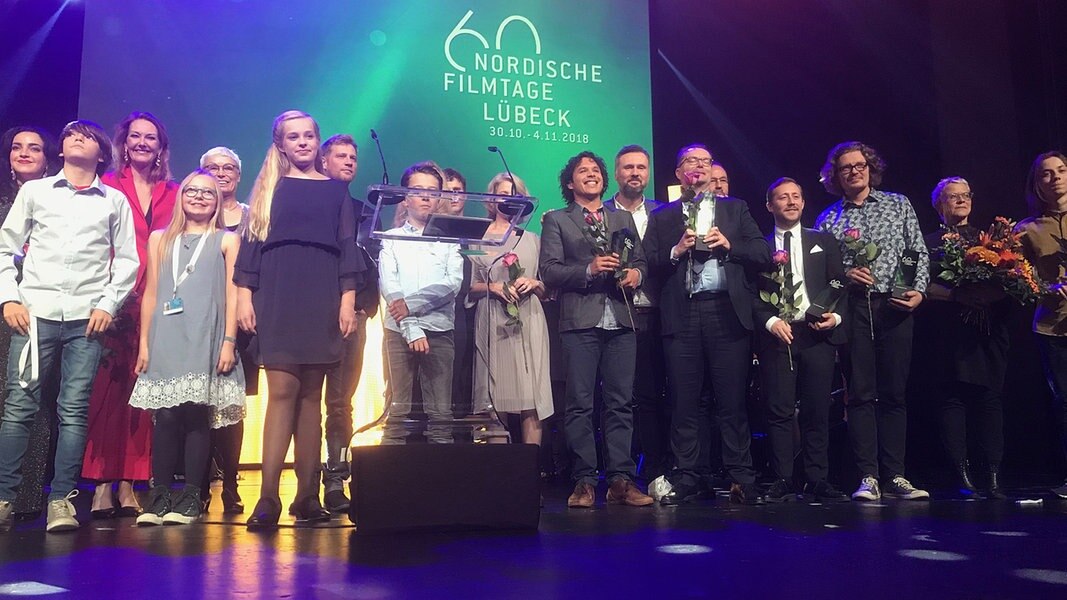 [ad_1]
From 04.11.2018 10:54
"Against the Current" actor Juan Estrada (8.v.r) praised the awards in four categories.
This is what a The Lübeck Film Festival has never been so: Icelandic comedy "Gegen den Strom" won four of the nine categories in the Lübeck Film Award Gála. In addition to the Baltic Film Prize, the Ecclesiastical Film Prize and the award-winning category, as well as the award-winning NDR Film Awards, the Icelandic 100-minute feature film also went on. The awards were awarded to Juan Estrada as a performer. He told NDR 1 Wave North that this success was overwhelmed. Benedikt Erlingsson's director sent his personal thanks to a video message to the jury and the 600 award-winning gay visitors.
Jury: a movie that encourages
17 films have been received for the NDR Film Award, a prize of € 12,500, awarded by the NDR rapporteur Yared Dibaba at the Lübeck Theater Gala. Volker Thormählen, director of NDR Landesfunkhaus Schleswig-Holstein, said that Scandinavian film days showcase the creativity and narrative art of the Baltic region every year, which can not pay enough attention. "Benedikt Erlingsson and his team," The current counter ", are a great example of this – congratulations!" The jury justified their choice as follows: "A film that encourages the lack of positive narratives." With a cinematic wink, fun and thrilling, ingenious, brilliant protagonist and overwhelming Icelandic nature, the audience is confronted with the instinctive, emotional and humorous global problems.
Theatrical release on December 13th
The central form of "Against the Flow" is Halla, played by Geirhardsdóttir Halldora. From the outside, the mid-forties are uninformed, Halla is also a competent eco-activist. He wants to prevent the naturalization of economic interests. Guerrilla's actions do not even want to hide the sabotage. But Halla gets a surprising message in the middle of the fight. Theatrical release in Germany on 13 December.
This year, the jury members of the NDR Film Award were Marieanne Bergmann, Freelance Advisory Films and Projects in Hamburg, Lisa Karlström and Mette Lysdahl Actresses, Susanna Salonen and Patrick Poch, NDR Editor of the Film, Family and Series.
NDR's television shows show Scandinavian film beads
The NDR television shows are on the Lübeck 60th Nordic Film Festival on 2 December, a Scandinavian film series featuring four episodes of the "Rebecka Martinsson" thriller series. The film series ends with Swedish director Ruben Östlund on December 2 at the "Higher Force" family drama.
Movies from the Northern Films program

[ad_2]
Source link