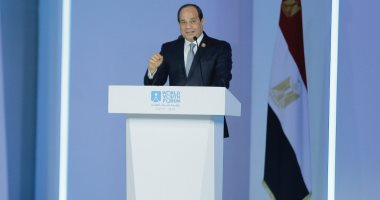 [ad_1]
President Abdul-Fattah al-Sisi met with Foreign Minister Oman Sheikh Yusuf Bin Aliy on Monday, in the presence of Foreign Minister Samej Shurik.
Ambassador Bassam Radhi, a spokesman for the Republic, said the President welcomed the credibility of the bilateral relations between the two countries, while stressing the desire to strengthen relations with the Oman side in various areas to achieve the common interests of the two countries two countries and two sibling peoples, He also referred to the balance and wisdom of Oman's policy, led by Sultan Qaboos.
For his part, the Oman Foreign Minister distinguishes Oman-Oman relations and the two popular and fraternal countries, has a long history of mutual love and cooperation, stressing his country's strength to strengthen bilateral relations with Egypt in all flat. In light of the special status enjoyed by Egypt at official and grassroots levels in Amman and the role of Egypt in supporting the security and stability of the Arab countries, especially the Gulf.
The two sides agreed on the importance of coordinated efforts to resolve the current deadlock in the peace process and to resolve the Palestinian issue in a way that responds to the Palestinian people's expectations and guarantees their rights in accordance with international standards and principles. They exchanged views on the latest developments in the Middle East.
[ad_2]
Source link