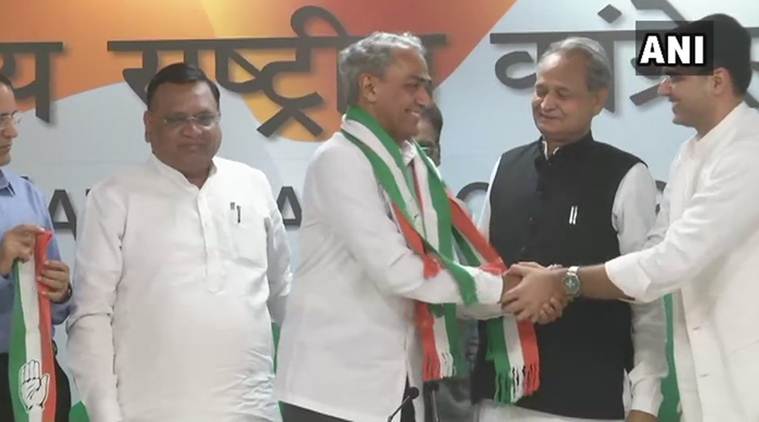 [ad_1]
From: Express Web Desk | New Delhi |

Updated November 14, 2018 1:00:55 PM
Ashok Gehlot said: "Both of us, I and Sachin Pilot, will be fighting in the Rajasthan summit."
In a major setback for the Bharatiya Janata (BJP) ruling party ahead of the Rajasthan Congress, party member Dausa Harish Meena joined Congress on Wednesday. Meena was approached by the head of the Sachin State Conference and by former Minister Ashok Gehlot, both of whom decided to challenge the state elections to be held on 7 December.
At the event, Gehlot said: "Both, I and Sachin Pilot will fight in the Rajasthan summit."
Meena, who joined the BJP in 2014, is a retired IPS officer, who last served as Rajasthan Police Chief of Staff from March 2009 to December 2013, the longest term of office of a DGP in the state. He is also the recipient of the Indian Police Metal and President Medal.
Last month, veteran BJP leader Jaswant Singh and former MLA Manvendra Singh joined Congress. Singh, 54, who won Barmer's Sheer District BJP candidate in the 2013 election, had told a colleague in September that he had left the BJP. "Kamal ka Phool Badi Bhool," he said then, arguing that the transition to the BJP electoral symbol, the lotus, was a "big mistake".
The pilot had welcomed Singh at the party, saying he would boost the party. He said, "There is a long list of leaders who give up the BJP and the party needs to wake up because that's the case."
For all the latest news in India, download the Indian Express version
© IE Online Media Services Pvt Ltd
[ad_2]
Source link