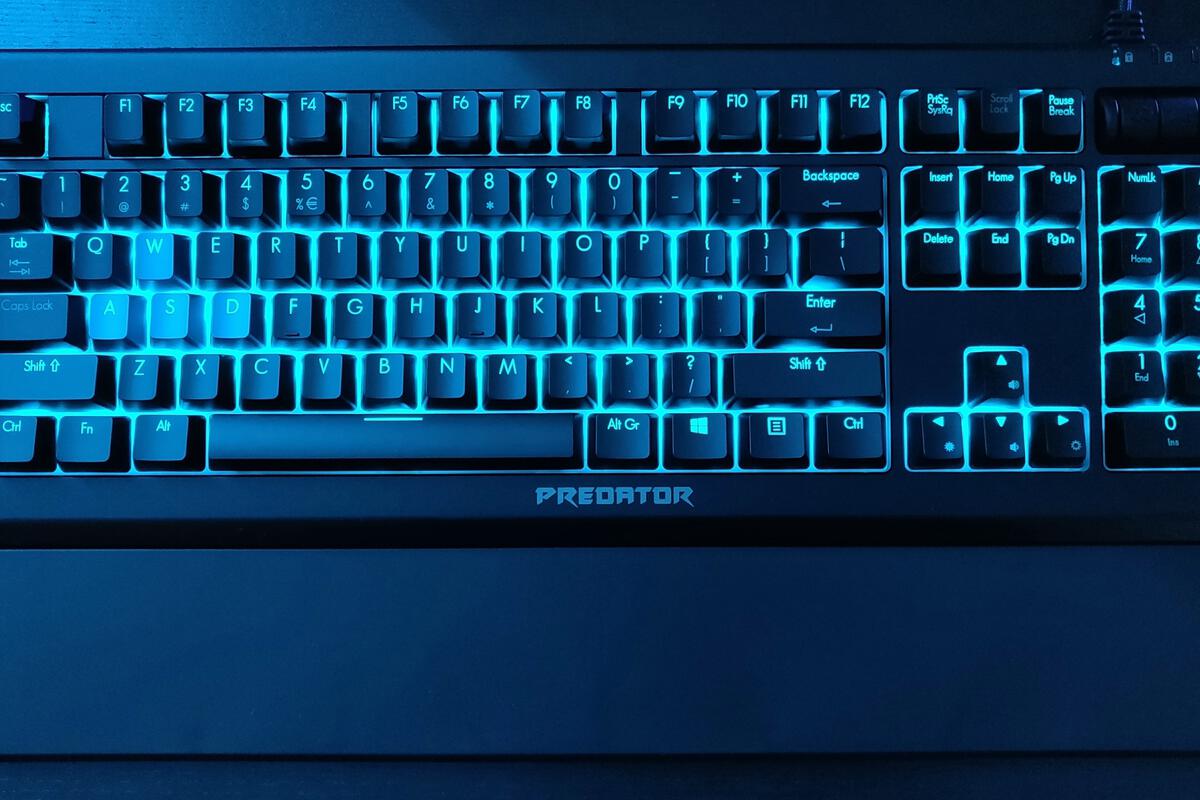 [ad_1]
The more you look at Acer's Predator Aethon 500, the strangest it seems. It's not that it's a bad keyboard per se, but you might call it a "challenge". Where most companies can settle in one or two fancy design elements to stand out, the Aethon 500 is all flash, a mess of design elements that often contradict each other.
Acer certainly makes a statement as it enters the mechanical keyboard market, but I'm not sure what statement.
Note: This review is part of our own the best gaming keyboards roundup. Go there for details on competing products and the way we tested them.
Disputable calls
The Aethon 500 is a battle station. Let's get started there, with its edge. This is a keyboard monster, so I really gave the box to my colleague Adam Patrick Murray to see his surprise. Perhaps you think the 3.9 kilos do not sound much, but it is almost one kilogram heavier than other flagship keyboards such as the Razer BlackWidow. It is big, yes, with thick wreaths and a series of macros – but more so, it is dense. There is a lot of plastic here, but also a thick metal plate and sides. If you need a keyboard for possible zombies with the hit, the Aethon 500 will be your best friend.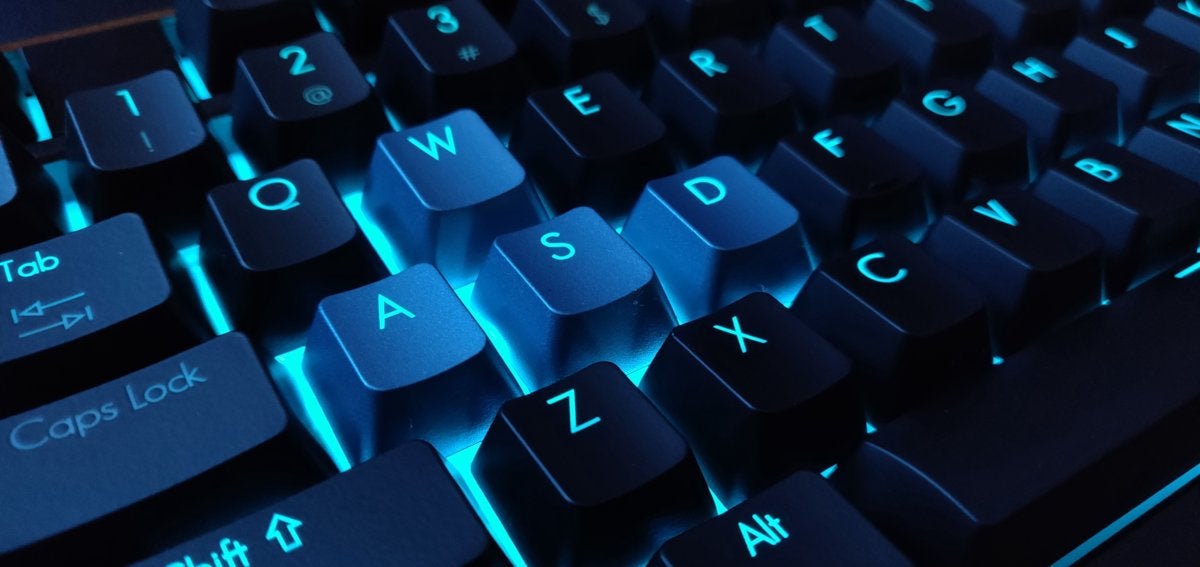 It's an interesting contrast to Futura's lightweight futuristic plan that brings up (most) key keys. And if these two elements, the sans-serif font and a thick keyboard slab, were enough to describe the Aethon 500 then I could say that Acer had won a project.
But there are many bizarre options. For one, you will notice that I said that Futura used it most of the keyboard. Strange, right? Do not ask why, but Acer chose to use a completely different, more aggressive letter in the five macros. It is not a terrible confrontation, but it is not so enthusiastic.
The brand is also a bit exaggerated for my tastes. The keyboard itself is not too bad, but the word "Predator" written on the bottom edge is not an option I would do. The (thin plastic) wrist rest is the real offender, however, with the Acer Predator logo engraved in the silver on the right-hand edge. Every time I see it, all I can think of is "Someone stamped Optimus Prime on this keyboard."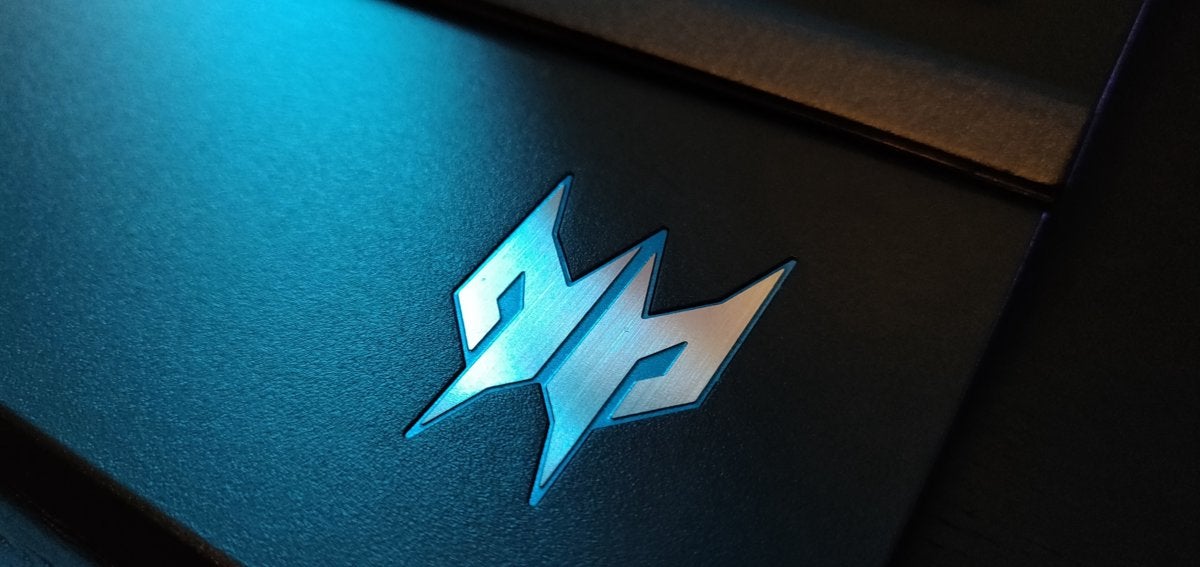 The aesthetics are subjective, but in the case of Aethon 500 there does not seem to be a single aesthetics. The logo and the macro keys scream "game keyboard", while the rest says "office ready". The combination of two does not do much Aethon 500 many wishes.
One of the first elements you will notice is the tension wheel. Why; Because it comes out of the keyboard side. As with the Aethon 500, I'm tired of this choice. It is useful – if the wheel did not take its side, there would be someone who is about half a inch long and difficult to find. Like the Razer's recent circular keys, the Aethon 500 makes it easy to carry a hand over the keyboard, find the button, and rotate.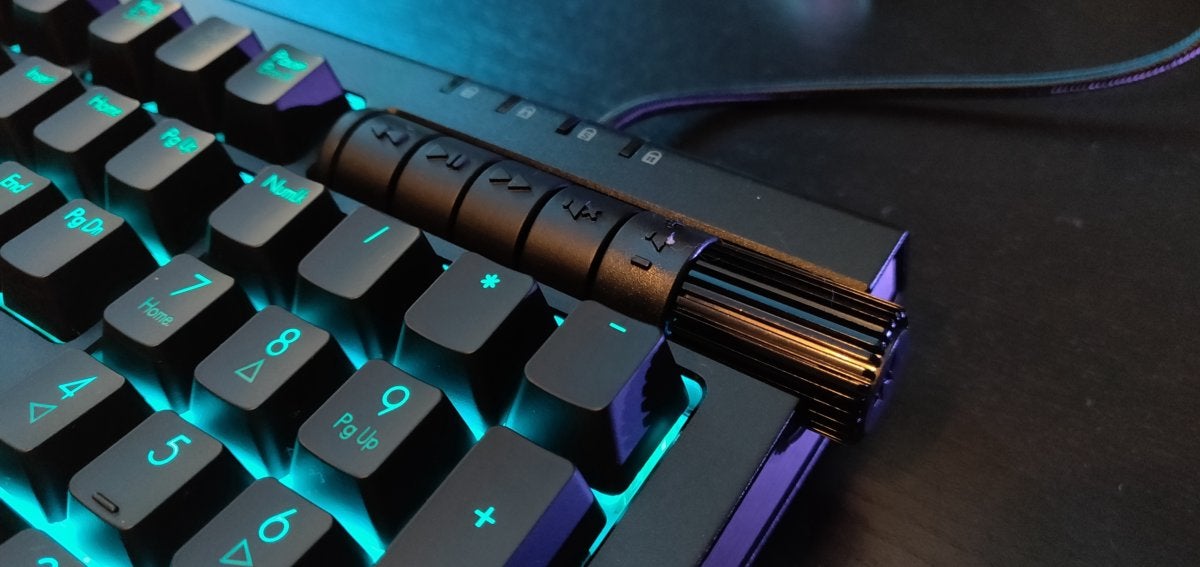 On the other hand, it's ugly. It reminds me of someone by hand writing a mark and making the first letters enormous, then thinking "Oh, oh, I run out of space" and fill the second half inside. Unique? Sure, but not in a way that I would like to see others copy. The wheel is quieter than it seems, bending up and down even with a soft press.
And these are just the most obvious whims of Aethon 500. There are more. For example, Acer uses the arrow keys for backlight brightness, plus … a second set of volume controllers. Why; You'll find the same redundancy that is also available on Caps Lock / Scroll Lock / Num Lock, where Acer has included a standard set of indicator lights across the top right edge and they did so that the locking keys lit only when they are active. Again, Why;
The WASD keys are brilliant blue and no alternating cover packs are available. You are stuck with this, which is a strange and restrictive choice. The Windows key is also exchanged with the function key, which may not affect you, but it definitely bothers me. I usually open programs by pressing the Windows key and typing in the first letters and the memory of the muscles continues to click here the function key.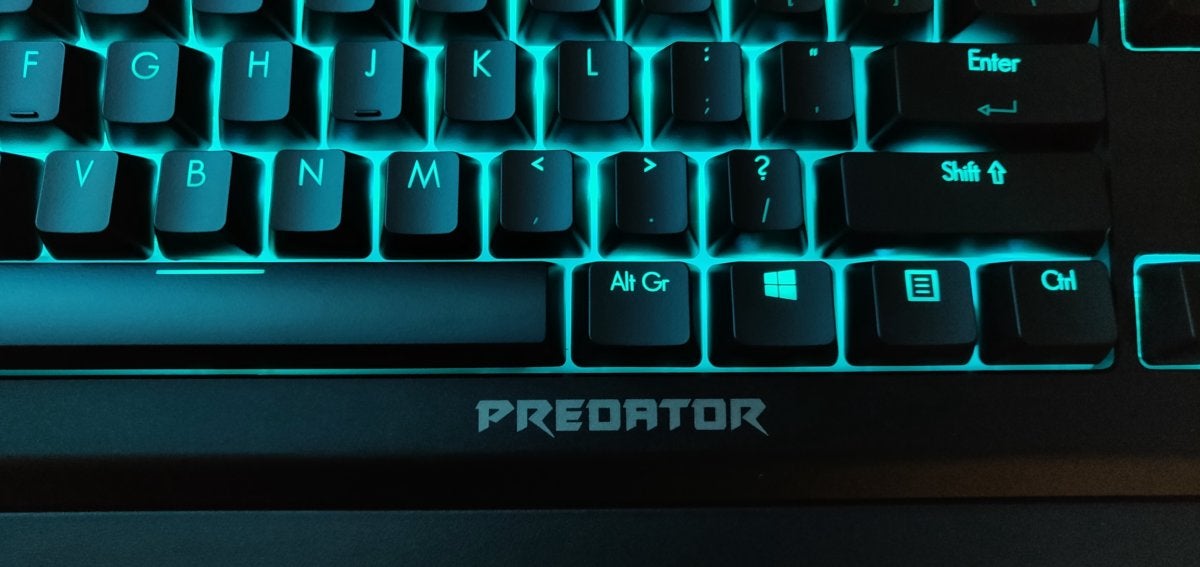 Perhaps the most puzzling of all: The "5" key has two sub-function labels, one for the "%" symbol and the other for the Euro symbol ("€"). This is the unique EurKEY symbol appearing on Aethon 500 and the "Alt Gr" accompanying key you use to get it does not work (to my knowledge), even by default in the US. It is only a default on a second Alt key.
Noteworthy, Acer made many strange choices with the Aethon 500 design. None of these are really make-or-break, and I did not like having it in my office in the last few weeks. That said, there are better keyboards out there – especially for $ 180. This can be a standard catalog price for an RGB keyboard, and even the Aethon 500 backlight is decent enough to compete with Corsair, Razer, Logitech, etc. . But the rest of the design? I'm not so sure.
Blue for blues
That $ 180 is doubly difficult to swallow when you focus on choosing the Acer switch.
Did you know that once Acer manufactures its own mechanical switches? Well, mechanically-beside maybe-they were altered ALPS switches, with membrane core.
Anyway, those days are long in the past. Instead of reviving the old switch, Acer instead chose a fairly standard Kailh Blue on the Aethon 500. There is nothing wrong with a Kailh Blue theoretically. It's one of the best knock-off Cherry MX, with a slightly lower trigger force – so little is doubtful that you will notice, really.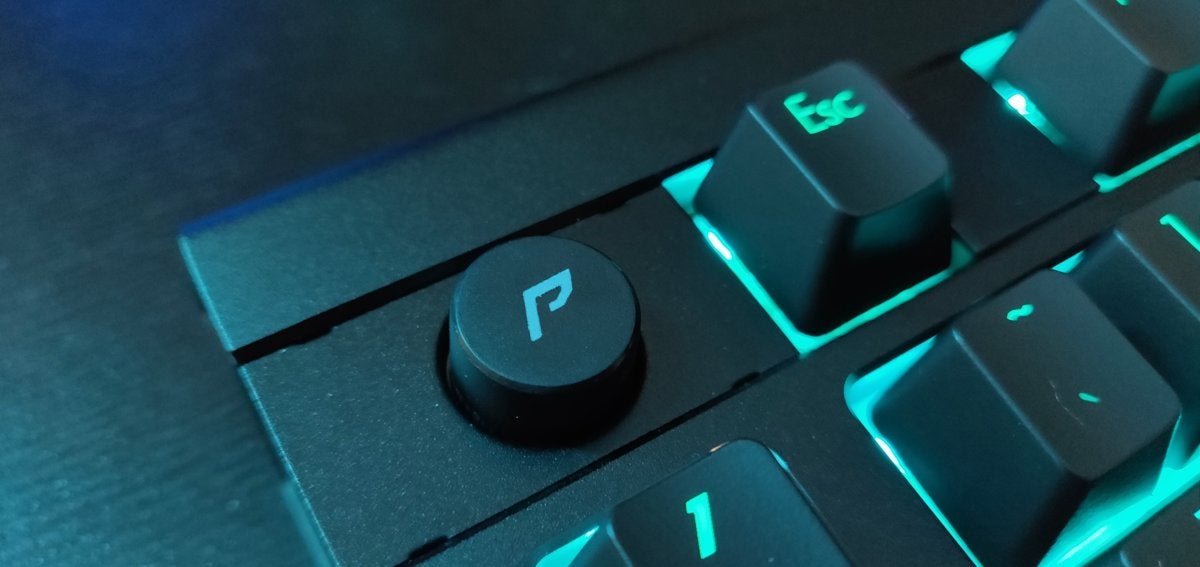 Kailh switches also have a reputation for poor quality control, though it was worth it or not. Regardless of whether you buy this argument, this means that Kailh switches generally do not have the same price as real cherry switches – except the Aethon 500.
The Corsair keyboards are about $ 180 and use the actual Cherry MX switches. Razer and Logitech do not, but each has developed a proprietary switch to justify the price – in other words, "you either get it from us or you do not buy our keyboards."
However, Kailhs are a common interchange between third parties and so we can make direct comparisons with other keyboards on the market. You can find other Kailh RGB keyboards for as low as $ 60 for Amazon.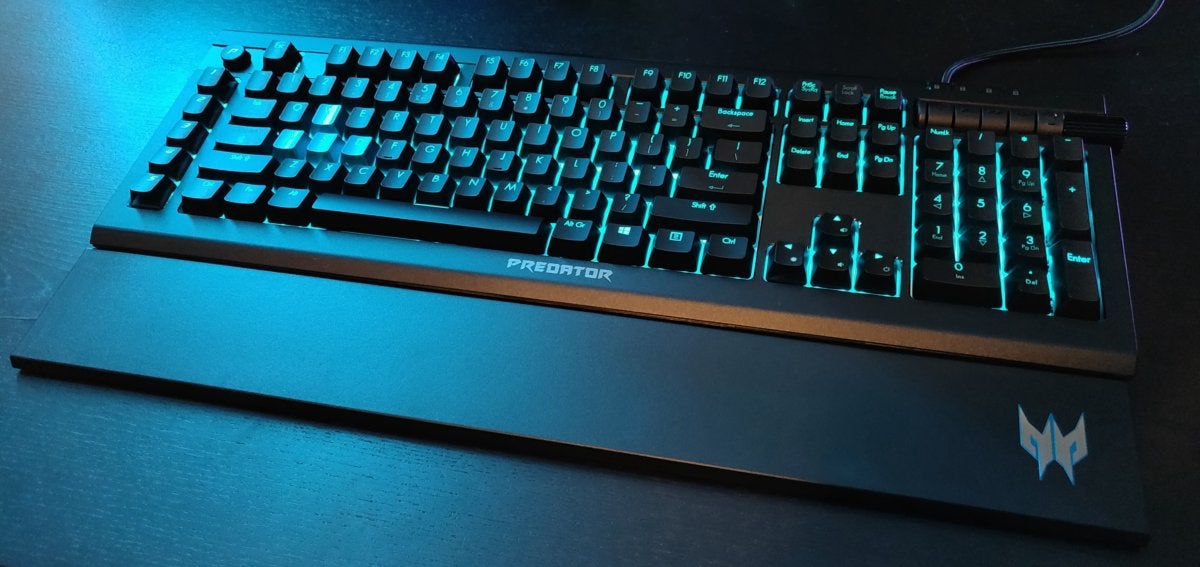 Now, Acer has done a lot of work on the Aethon 500 and I have no doubt that the overall quality of construction is better than most of these $ 60 keyboards. That being said, the Aethon 500 probably deserves a price between the two ends – say, $ 120. Anything more than that feels a little abrupt.
Light it up
Before we close, let's just touch the badly called Predator Gaming Device Integration software. Of Okay.
These kinds of software utilities are always hit-or-miss, but Acer's at least fairly intuitive when it comes to changing the lighting effects, a feature that most people will touch. Making Macros is more difficult, but it can be decrypted by someone who cares enough.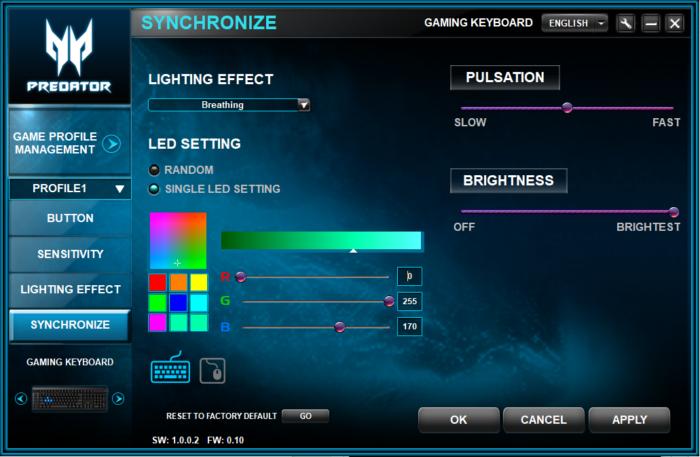 My only real complaint is that it is in desperation for a graphic design. The incorporation of Predator gaming devices (seriously, what name) looks like it's rocking a WinAmp skin since 2003.
Conclusion
The Acer Predator Aethon 500 is not a bad keyboard and if you buy an Acer Predator PC, there's no reason to throw it away. We have come a long way from the old rubber-dome packages that came with many pre-installed machines.
But Acer now sells Aethon 500 to the public and this is a more questionable pursuit, especially at full cost. It is one of the few keyboards that include macros these days, which may be enough to convince some players, but degraded switches, a price for watering and a set of harsh design options, make the Aethon 500 also an eye on my eyes .
To comment on this article and other contents of PCWorld, visit our Facebook or us page
Twitter
feed.
[ad_2]
Source link