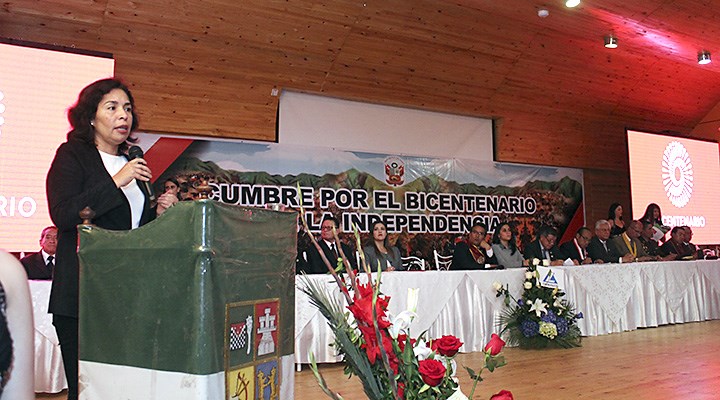 [ad_1]
11/7/2018
Culture Minister Patricia Balbuena said the celebration of the bicentenary would begin this Saturday with a launch activity from Huamanga (Ayacucho) and at the same time from 19 other regions of the country.
The celebration of the Decade will be a process of mobilizing not only public bodies but also citizens for what the 200 years of the Republic mean and to see ourselves as a nation in relation to what we have built.
This balance, he said, should also be a country after 2021.
He said that in Huamanga, the opening of the two-day conference will include the intervention of President Martín Vizcarra, local authorities, representatives of cultural organizations and the community, as it is expected that 5,000 people will be involved.
At the same time, state ministers will travel to 19 other regions of the country for this activity.
The President of the Council of Ministers, César Villanueva, will be in San Martín, his region. the Minister of Education, Daniel Alpharo, in Lima. the Minister for Housing, Javier Piqué and Mercedes Aráoz's second Vice-President in Ica.
Health Minister Silvia Pessah will do the same with Junín and the Minister for Development and Social Inclusion, Liliana La Rosa, in the provinces of Lima and Cajamarca.
"It is a major development, reflecting the government's priority to discuss and celebrate the two-year process that President Vizcarra will deliver in 2021."
It clarified that the Conference is broad and has as its components infrastructure, ephemeral, reform, cultural and academic part, among other issues.
Moquegua
Vicente Zeballos, the Minister of Justice and Human Rights, will chair this Saturday, 10 at the Plaza de Armas of Moquegua, to launch the Dialogue Agenda to mark the celebration of independence and the birth of the Republic of Peru.
This event, which will start at 9:15 am, is part of a decentralized, participatory and exclusive program of activities led by the Head of State.
[ad_2]
Source link