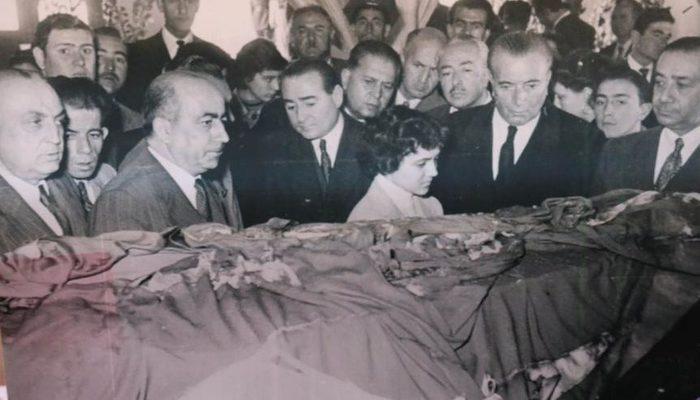 [ad_1]
The body of Mustafa Kemal Atatürk was transferred from the Ethnographic Museum to Anıtbabir on November 10, 1953. There were 10 people in the room while Atatürk's body went down to the mausoleum. One of these names is former Constitutional Court President Yekta Güngör Özden.
1 / 9
A NAME IN LIFE
Özden, who is the only name in the life of 10 people involved in the burial, expressed what he knew on that date, accompanied by documents and photographs.
2 / 9
"OPEN AGE, STAFF OF ATOUT"
Özden, who attended the panel at the Ankara University Association, said: "Steel coffins were removed to the Ethnographic Museum and were cut with a steel saw and opened the coffin. At that time I saw Atatürk's face, his face never distorted. like a new shave, and then the coffin was closed again. "
3 / 9
CONFIRMATION
You will be transplanting a body of Turkey Ataturk, because I am not the President of the National Broadcasting Commission for the Students Federation and worked during the burial. At that time I was a student at the Law Department of Ankara University. Within my mission, I first identified 100 girls and 100 boys in the Ethnography Museum.
4 / 9
NOISE VOICE
Ethnography Museum in front of the top car, behind us, we started walking. At that time, there was no sound except the revivals and the steps. The streets gathered people, there was great respect, tears. We came to Anitkabir. The coffin was placed in the section in front of the Mausoleum. At that time, Celal Bayar said in his speech: asında I love you is the bay of prayer. At the beginning of Aslanlı Street in Anıtbabir, the soldiers were transferred to the soldiers' shoulders and placed in the battlefield in front of the mausoleum building.
5 / 9
10 PERSONS IN THE ROOM
The coffin was removed from the mausoleum. From there, he descended to the tomb with the help of a steel crane. Turkey had been scattered over four territories and brought from Cyprus. The coffin was then moved to the soldiers' shoulder, from the mausoleum to the burial chamber.
6 / 9
President Celal Bayar, Parliament Speaker Refik Koraltan, Prime Minister Adnan Mendes, Chief of General Staff Nuri Yamut, Ataturk brother Makbule Atadan and I have come. We had a total of 10 people with some soldiers.
7 / 9
MAKROCHRONOS
I am the only survivor of 10 people. During the burial, Makbule shouted. When I returned to my dungeon, I cried for a long time. (Source: Representative)
[ad_2]
Source link