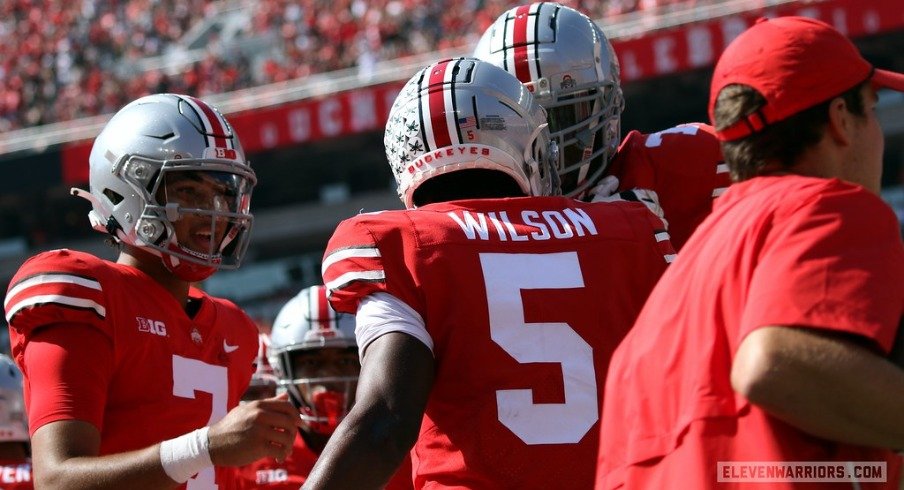 [ad_1]
There is a lot to be excited about in Ohio after Saturday.
The Buckeyes took an even more impressive 66-17 shot at home to Maryland last week, followed by an impressive win over the Rutgers with 598 yards total offense and nine shots last week.
Maryland head coach Mike Locksley was so surprised by Buckeyes' attacking success that he came up with an abstract analogy to describe exactly what the Ohio State wide receiver corps did on Saturday.
After the game, Locksley said, "We had boys who looked like they had fallen off the planes."
Chris Olave, Garrett Wilson and Jaxon Smith-Njigba came together for 17 catches, 307 yards and four shots, while CJ Stroud had a second straight five-touch performance for the Buckeyes. The red shirt also played the second 400-yard game in his freshman career.
The five different Buckeyes received at least three assists against Terps and were drawn in seven overall receptions. Stroud was happy to spread the ball as much as he could, and said a locker room that several different players could contribute to did on Saturday would be happier.
"It's great to give the ball to everyone. Everyone is happy," Straud said. "No one is trying to ignore you. No one on our team will do that, but it won't feel good. I'm happy and happy that everyone who received it ate today."
Buckey's transition attack has been firing all the cylinders in recent weeks, and although the running game sometimes bounces against Maryland, TreVeyon Henderson still ended up with a 100-yard touchdown on the ground. Olave believes the Buckeyes have the right balance in attack and that rival teams will be more careful if this continues until the end of the season.
"I feel we're still building on this crime. We're just starting to build more chemistry, especially on game days," Olave said. "So I think this crime is horrible and unstoppable. We just have to keep building and get better."
As for Stroud, Day is pleased with what he has seen in the last two weeks. Against Rutgers and Maryland, the California native has 736 passes, 10 touchdowns and no obstacles. Still, Day Straud said he could reach another level.
"I think his preparation was excellent. I think he sees the field well. There are good players around, but he also makes good shots," Day said. "The time has come, he sees the field, he makes good decisions, which allows us to attack and be very effective. Is he still there? Absolutely. There are still many ways, but what I have seen in the last two weeks has inspired me a lot."
In defense, the Buckeyes kept their opponents below 20 points in the third straight week, capturing Taulia Tagovailoa twice and making the Maryland run game one yard per 1.6 carry.
Kerry Coombs will no longer call the game to Ohio, but Day said Buckeyes' defensive coordinator was given the ball after the win.
"I see confidence, I see a team working together. Kerry Coombs got the ball today," Day said. "The reason for that is everything he's been through over the last few weeks and it continues to be seen every day and is a big part of the defense. But at the same time we've rebuilt a few things and we have a little rhythm. I think it does a great job of seeing him out of the box. I think Matt is doing a very good job of calling him, I think Larry is doing a great job with the people in front, Al Washington is starting to build some stability in the linebacker. Those people all work together, they start to see it through a lens, you can. "
Steele Chambers, who led the team for seven years on Saturday, said the whole team was happy to see Coombs rewarded after the game.
"Everyone stood up," Chambers said. "I mean, I don't really know what you can feel. A lot has happened and nothing has changed for him. He's a perfect person and a great person to learn from."
One of the Buckeye defenders who came under fire on Saturday before and during the game was Marcus Williamson, who made his first start since last season. When asked about the energy he showed before training, the Westerville resident of Ohio discussed how important a chance to play for the Buckeyes was for him.
"I was born and raised in Ohio. These football things mean a lot to my family, they mean a lot to me," Williamson said. "To be able to show that passion on the field, to show energy, means the world to me."
[ad_2]
Source link