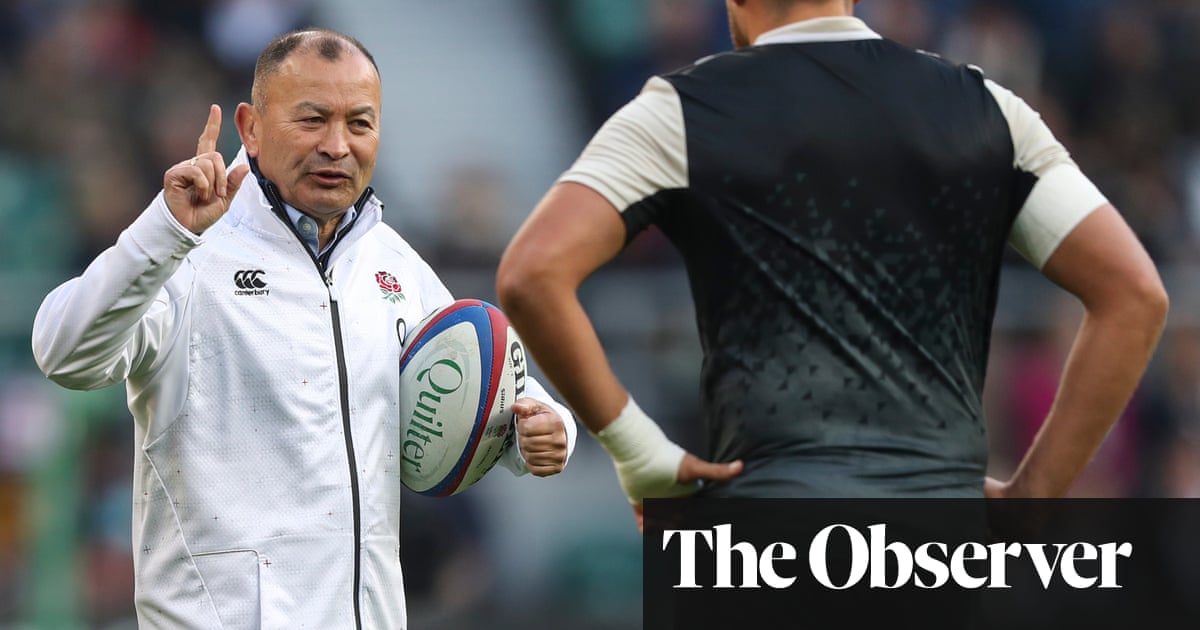 [ad_1]
Eddie Jones has stepped out to support RFU's deputy CEO, putting his weight next to Steve Brown, whose withdrawal is believed to have been the result of political hostilities. "He's a great guy," said the England coach. "He has good skills and a good way and was very supportive of the team, and I will definitely lose him and I'm sure the body will lose him, but life continues and RFU will continue to strike forwards."
RFU announced departure on Friday, causing discontent among a large number of staff. The president, Andrew Cosslett, paid a nice tribute to Brown, but rumors abound that other parts of the body felt less well prepared.
Former CEO Francis Baron has released a report among some former presidents, highlighting what he saw as poor economic results, with the cost of the new eastern stance exceeding the budget, partly due to the stricter security measures introduced after the fire of the Grenfell tower . RFU has made many redundancies this year.
Jones sympathizes with the pressures of work. "I was very surprised when I learned about it," he said, "because I think he enjoyed the job." You have to remember, the CEO's jobs are tough, especially the chief executive of English rugby, you have so many conflicting interests. to manage all the places It's a wearing job It's a bit like being a coach, a companion. "
Jones's job was definitely unpleasant for the first 40 minutes against Japan before recovering from 15-10 to win 35-15. The Australian lost his conversation for half an hour, renowned savage when he was responsible for Japan in conquering the 2015 World Cup. "It's not like the old days," he said. "Once you reach 55, you will be stressed, we only talked about the fact that we needed more effort, we did not get stuck, but we did it in the second half, which is really good for us. this.
"I saw Leitchy [Michael Leitch, Japan's captain now and when Jones was Japan coach] afterward. He thinks he did not play so well. I thought she played very well. "
Indeed, Leicesh was all things to all men, especially in the first half, when Japan played with so much confidence and threat as on the famous afternoon at Brighton in 2015 when they hit Springboks. The man himself was convinced.
"I did not play well," Leitch repeated. "I guess I missed some opportunities, we created space, but we were a little unwilling to take the ball to this place."
His current coach, Jamie Joseph, did not agree. "With our players," he said, "they really feel frustrated if they do not win, no matter who they play. I do not think it's bad. But to put it in the box, going to Twickenham is a huge challenge for any team. Michael charged the charge. He is our leader. She plays as she plays today in every match I've ever practiced and it is very easy for our team to follow. "
Japan continues to move forward. Jones finished with some memories of his first tour as their coach. "The first time I took Japan to Europe we played Georgia and Romania and we had a pick-up game against the French barbarians in Le Havre, the only place where there are English pubs in France, a very strange place, but now Japan gets to play All Blacks, and they get to play in England in front of 81,000 people, it's fantastic, it's a right rugby country now, which people take seriously.
[ad_2]
Source link