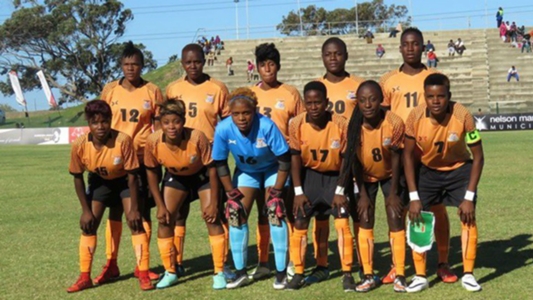 [ad_1]
Coach Bruce Mwape has set his final list to compete in the women's continental competition that begins next week in Ghana
Zambia has confirmed their final group of 21 women for the World Cup of Women 2018 to be held in Ghana this month.
Coach Bruce Mwape will lead Shepolopolo to a second senior women's championship to be held in Ghana, with three goalkeepers, eight defenders, five midfielders and five strikers.
With 11 days to go, here is our final team.# TotalAWCON18 # WomenAFCONGH2018 pic.twitter.com/sXXpmtngUG
– Zambia women's football (@Shepolopolo) November 6, 2018
The list is made up of six players who appeared in their first Namibian campaign in 2014 (Hellen Mubanga, Hazel Nali, Anita Muelnga, Grace Zulu and Mary Mwakapila).
Also included is Barbara Banda, who scored the only goal of the group in the 2014 edition and scored three goals to shoot the nation across Tanzania and Zimbabwe to qualify for the Ghana showpiece.
On Tuesday, Mwape revealed that the group, which began their preparation with a 3-2 victory over the Ghana guests, will hit Côte d'Ivoire on Thursday where they will play some test races.
They will join the striker Banda in Abidjan before moving to Cape Coast, where they will face Kenya, Nigeria and South Africa in Group B during the tournament.
FULL SQUAD
Goalkeepers: Katerina Mussonda (Indiana), Hazel Nali (Green Buffaloes), Hako Nhoma (Red Vieles)
Defenders: (Indie), Louise Mumba (Nazi), Anita Mulenga (Green Buffalo), Margare Belem (Black shot), Martha Tempo (Green Buffet), Jacqueline Nkole
Mediums: Mary Mukapkila, Irien Lungou (Green Buffaloes), Green Buffaloes, Greek N. Tsanta (red arrows), Avel Chitountou (Zesco)
Front: Elban Mubanga (Red Arrows), Grace Handa (Zesco), Lubaidzi Oscuba Oseke (Njazi), Rachel Kundayani (Indyni), Barbara Banda (EDF Logroño, Spain)
[ad_2]
Source link